ManageWP Worker [Review]
Hello friends,
In this post I will present to you one tool that you just might love using for your WordPress websites. It is called ManageWP Worker.
What does ManageWP Worker do?
The short answer is improving your productivity. The long one needs to have a deeper look at this awesome plugin. And that is just what we are going to do now. So, why productivity? Because when using WordPress your aim is to create (I do stress on the word "create") awesome and unique content in any form so that your project will attract various visitors (and sooner or later customers). That is why improving your productivity and reducing any unnecessary distractions is extremely important for this process.
Now imagine that you are running multiple WordPress websites. For most of you this is a real situation and for the rest it is about to become one. Each time you want to add a new piece of content to each of these websites requires to log in them and when done to log out (optionally but recommended in some cases). Only this activity is enough burden and causes enough distraction which takes away from your productivity and creativity. Now imagine that you have to pass through each of the steps for the creation of this content on each of the websites that you own. This includes adding a new post, creating the content, formatting the text, uploading and adding images, adding SEO meta elements (titles, alt text, etc), reviewing the created content, publishing it and so on.
These are the necessary steps that you need to pass through in order to create content. But as you are fully aware there are more things that are required from you especially if you are the admin of these websites. You need to update them, manage comments, manage SPAM, manage plugins and so on. These additional activities are the things that are important for any admin but should they take away from your productivity and time?
And what if the websites are just too many? Are you ready to pass through all of these steps each time? If the answer is no then you are indeed valuing your productivity and want not only to keep it at optimal levels but if possible to improve it as well.
That is why a tool like ManageWP Worker is just the thing that you need! It will save your time and improve your productivity by allowing you to efficiently manage all of your WordPress websites with just one great-looking and easy to use dashboard.
How ManageWP Worker functions and how to get it to work?
First of all you need to head to ManageWP.com. This is the official website of the plugin and from there you can learn more about the general idea behind this tool. While you are there you need to create an account and add all of your WordPress websites. Then you need to install the plugin and activate it. You may get it from WordPress.org or by using the plugin installer on your websites. Bear in mind that you can also add your websites from ManageWP Worker's dashboard as well. This is FREE! Yes, there are still great things that are free. And here we are not only talking of the tool itself but also about some of the add-ons that you are going to get with it as well. And if you need more power then (and only then) you should head to the pricing section of that website and check out the premium add-ons that you may purchase. Simple as that!
The next thing to do is to have a look around the plugin dashboard. You will find that you can do multiple things like:
See thumbnails of your websites in ManageWP Worker dashboard;
Assign tags and stars to them;
Get great summaries about updates and other webmaster related information;
Manage your plugins;
And many other things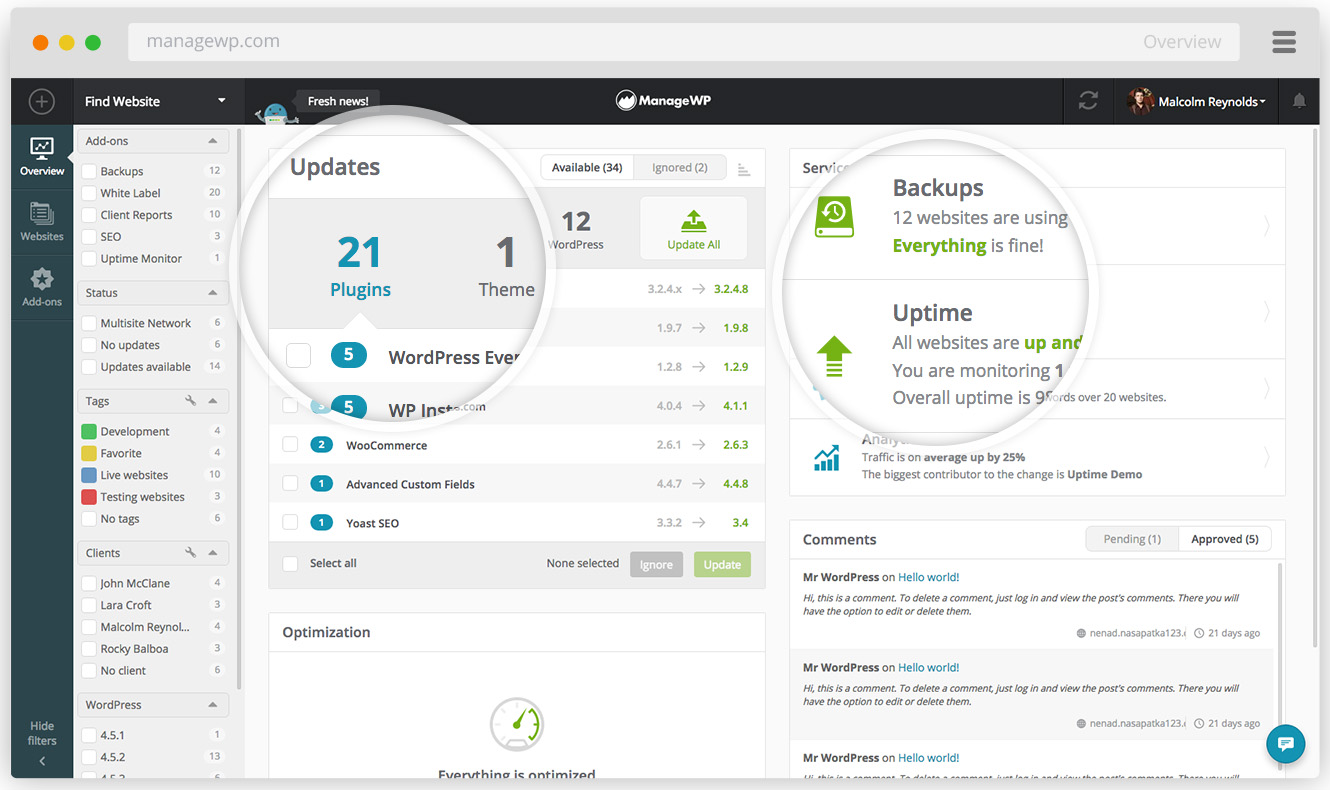 So what is free in ManageWP Worker and what should be purchased if needed?
The free things are:
The plugin and the service;
The possibility to use them on unlimited websites;
Free add-ons like:

Manage Updates, Plugins & Themes
Monthly Cloud Backup
1-Click Login
Performance Check
Security Check
Collaborate with Team & Clients
Analytics
Manage Comments
Code Snippets
Maintenance Mode
Client Report
Vulnerability Updates
The premium add-ons provide you with the following functionalities:
Premium backup;
Cloning functionality;
White Label;
SEO Ranking;
Uptime Monitor;
Advanced Client Report;
Automated Security Check;
Automated Performance Check;
You may purchase all of them or only the ones that you like and need. Also there are great pricing packages for individual website and bundle packages for more than 25 websites.
I want more information about ManageWP Worker.
You may visit the official website, read the FAQ page at WordPress.org and watch the promo video:
So now it's your turn, friends! Will you use ManageWP Worker? Share any thoughts and questions about this awesome tool in our comment section. Also help other users learn about this plugin by sharing this post is social media. Remember – sharing is caring!
See you soon, friends!
*The images and video are embedded from the plugin's WordPress.org page